PT Principal Asset Management supports earthquake survivors in West Sulawesi through collaboration with Save the Children Indonesia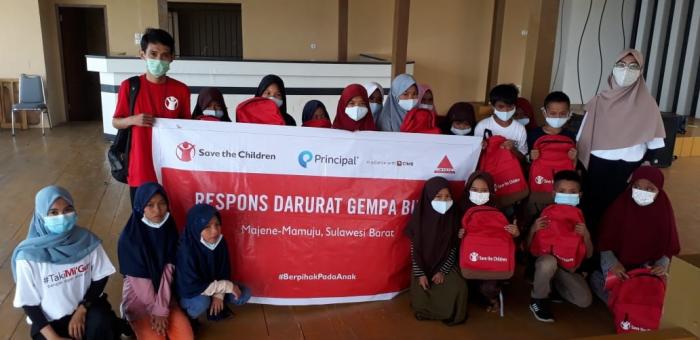 Jakarta, March 26 , 2021 – PT Principal Asset Management has collaborated with Save the Children Indonesia to help children and families affected by multiple earthquakes in West Sulawesi in January. With more than 30.000 people displaced due to the earthquakes, PT Principal Asset Management donated IDR 200 million to Save the Children Indonesia. These funds were used to provide essential supplies for shelter, hygiene, and to help meet educational needs.
Agung Budiono, CEO of PT Principal Asset Management, emphasized that the company is dedicated to making a difference in Indonesia and around the world. "Our goal is to help the people of Sulawesi as they move forward. We hope that the supplies provided through our donation will bring some comfort to those affected during this difficult time," added Agung Budiono.
The supply kits will specifically help survivors of this natural disaster find warmth, shelter, and create proper protection from disease, especially during this COVID-19 pandemic.
Additional efforts by Save the Children in Indonesia are focused on the psychological recovery of the children in the affected region as well. Child Friendly Spaces are being established to help children cope with the trauma of living through the earthquake.
Selina Patta Sumbung, CEO from Save the Children Indonesia also stated that "Children are a vulnerable group especially in the case when disaster happen. Fulfilling children's rights must be the priority of all parties in order for the child to grow. We really appreciate and thankful to PT. Principal Asset Management that is committed to helping and ensuring the rights of children in Indonesia are fulfilled."
Principal is committed to taking care of not only our customers, business partners and employees, but also people who live in the communities where we do business. Doing what is right is part of who we are. Within the last year, we have provided food packages to health and medical personnel battling COVID-19, helped create sustainable livelihoods for Torajanese women, and supported entrepreneurs with disabilities. Principal will continue to monitor the situation and offer our assistance. To find out more about Principal and its efforts, visit www.principal.co.id.
Principal helps people and companies around the world build, protect and advance their financial well-being through retirement, insurance and asset management solutions that fit their lives. Our employees are passionate about helping clients of all income and portfolio sizes achieve their goals – offering innovative ideas, investment expertise and real-life solutions to make financial progress possible. To find out more, visit us at www.principal.com.
About PT Principal Asset Management
PT Principal Asset Management (formerly known as PT CIMB-Principal Asset Management), is a joint venture between Principal Financial Group®, a member of the FORTUNE 500® and a Nasdaq-listed global financial services and CIMB Group Holdings Berhad, one of Southeast Asia's leading universal banking groups.
The company serves over 25,000 investors in Indonesia and has IDR 8.3 trillion in Asset Under Management as of December 2020. We offer a wide variety of solutions to help people and companies in building, protecting, and advancing their financial well-being with our discretionary mandates and asset management expertise.
With innovative ideas and real-life solutions, the company helps achieving financial progress towards a more secure financial future possible for clients of all income and portfolio sizes.
PT Principal Asset Management has obtained a business license from the Capital Market authority as an Investment Manager based on the Decree of the Chairman of BAPEPAM Number: KEP-05 / PM / MI / 1997 dated May 7, 1997.
About Save the Children Indonesia
Save the Children in Indonesia is the brand identity of Yayasan Sayangi Tunas Cilik which is registered in accordance with the Decree of the Ministry of Law and Human Rights No. AHU.01712.50.10.2014. Save the Children in Indonesia is part of the Global Save the Children International movement working to fight for children's rights in more than 120 countries around the world.
Save the Children believes every child is no exception worthy of the future. In Indonesia and around the world, we ensure early childhood health, opportunities for learning and protection against harm. We do everything for children - every day and in times of crisis - to change their lives and the future.
Currently, Save the Children works in 12 provinces, 79 districts, 701 subdistricts and 918 villages. The working area includes Banten, West Java, Central Java, Yogyakarta, East Java, Jakarta, East Nusa Tenggara, Lampung, North Sumatra, West Sumatra, South Sulawesi, and Central Sulawesi. Our program focuses on child welfare integrating across sectors including education, health, child protection, poverty, and child rights governance, as well as disaster response.
Media center image alignment
CENTER