PT Principal Asset Management Has Received Best Mutual Fund Awards 2021 from Majalah Investor and Infovesta Utama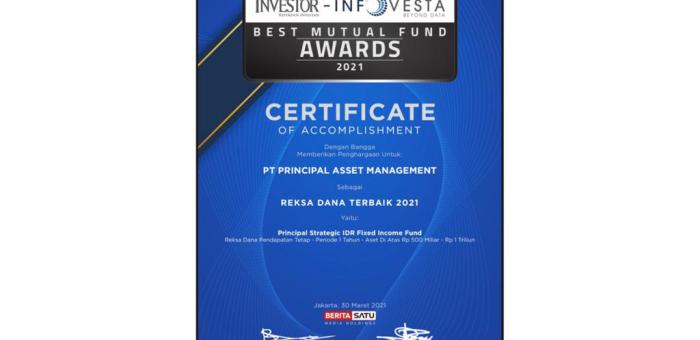 PT Principal Asset Management (Principal) has received Best Mutual Fund Awards 2021 from Majalah Investor and Infovesta Utama, on Tuesday, 30 March 2021. The award went to Principal Strategic IDR Fixed Income Fund for the category of Fixed Income Fund of 1 year period, with assets above Rp 500 billion to Rp 1 trillion.

On the live discussion at Beritasatu TV during the awarding event titled "The Revival Year of Mutual Funds", Mr. Primus Dorimulu, Editor in Chief of BeritaSatu Media Holdings, the media group of Majalah Investor, stated that "This appreciation should be given to all investment management companies that has successfully managed all fund products during this challenging times, resulted in optimal returns for all investors."

This year, Majalah Investor and Infovesta Utama has delivered 52 awards to 23 investment management companies with various categories: equity funds, balance funds, fixed income funds, money market funds, index & ETF. For this achievement, Majalah Investor and Infovesta Utama has established several criteria, such as: the fund product should be established minimum for 2 years per 30 December 2020, non-Syariah products, without dividends and has assets under management with minimum amount of Rp 10 billion per 30 December 2020.

Ni Made Muliartini, CIO of PT Principal Asset Management, emphasized that the company is dedicated to maintain customers' trust through the product performance. "This is a pleasant surprise amidst the hard time nowadays. We really appreciate the recognition by the Majalah Investor and Infovesta Utama." added Ni Made Muliartini.

Along with the achievement, from 2015 until February 2021, Principal has been well known as the Top 20 of investment management companies in Indonesia with high net asset value. With this achievement, Principal will stay committed to help people live their best financial lives for everyone. To find out more about Principal and its product, visit www.principal.co.id.
About PT Principal Asset Management

PT Principal Asset Management (formerly known as PT CIMB-Principal Asset Management), is a joint venture between Principal Financial Group®, a member of the FORTUNE 500® and a Nasdaq-listed global financial services and CIMB Group Holdings Berhad, one of Southeast Asia's leading universal banking groups.

The company serves over 25,000 investors in Indonesia and has IDR 8.3 trillion in Asset Under Management as of December 2020. Principal offers a wide variety of solutions to help people and companies in building, protecting, and advancing their financial well-being with our discretionary mandates and asset management expertise
.
With innovative ideas and real-life solutions, the company helps achieving financial progress towards a more secure financial future possible for clients of all income and portfolio sizes.

PT Principal Asset Management has obtained a business license from the Capital Market authority as an Investment Manager based on the Decree of the Chairman of BAPEPAM Number: KEP-05 / PM / MI / 1997 dated May 7, 1997.
Media center image alignment
CENTER