PT Principal Asset Management Establishes Distribution Partnership with Standard Chartered Indonesia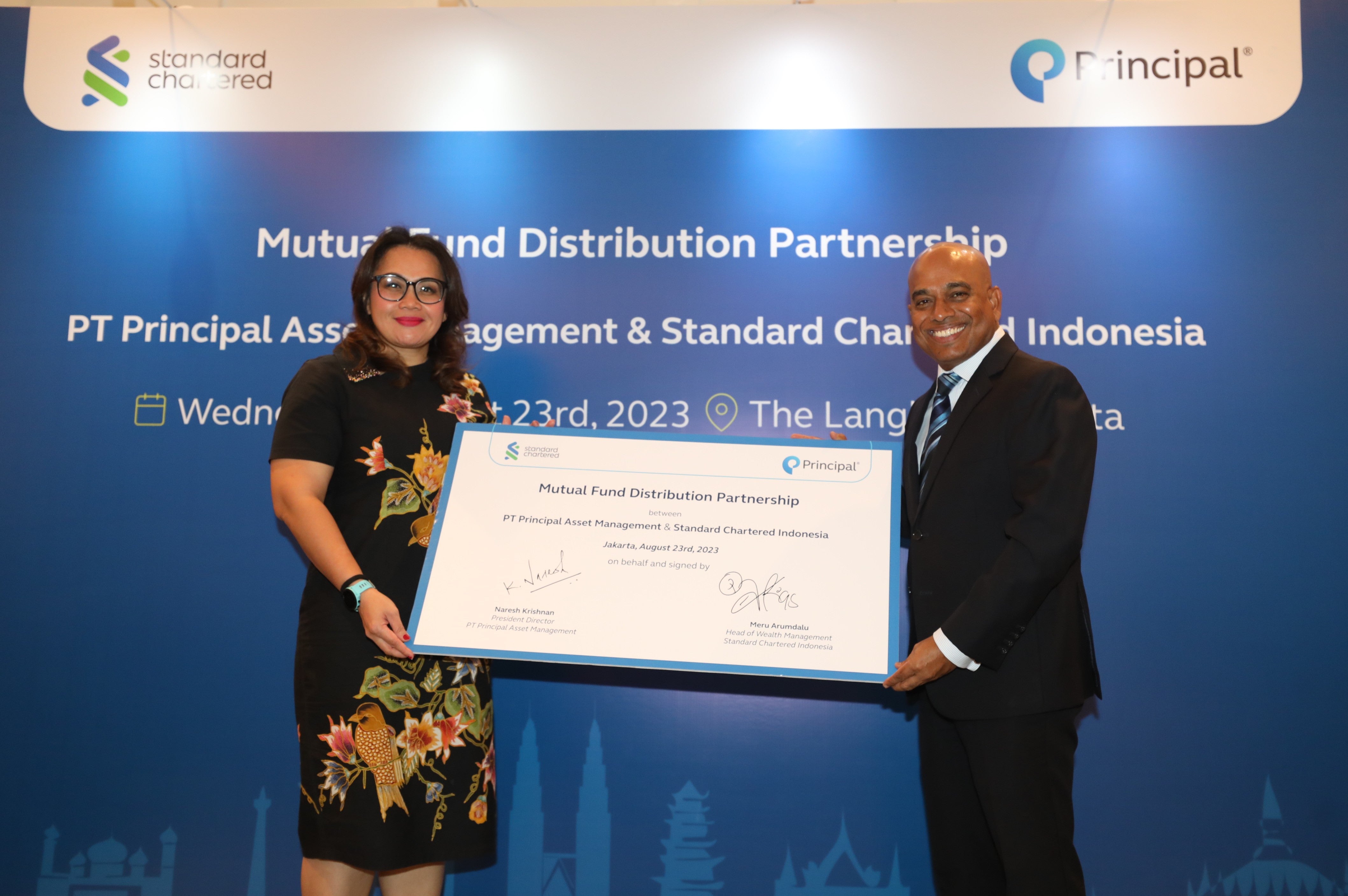 23 August 2023, Jakarta – PT Principal Asset Management ("Principal Indonesia") has established a distribution partnership with Standard Chartered Indonesia and celebrated with a signing ceremony event held at The Langham Jakarta, today. Through this partnership, Standard Chartered Indonesia will provide the opportunity for its customers to access selected funds from Principal Indonesia's product suite.

"Standard Chartered Indonesia is a major provider of wealth management solutions in Indonesia, and we are pleased to partner with them to deliver new, unique products to enhance the portfolios of their clients,'' said Naresh Krishnan, President Director of Principal Indonesia.
Standard Chartered Indonesia currently offer Reksa Dana Syariah Principal Islamic ASEAN Equity Syariah (USD) product, a newly launched offshore mutual fund product from Principal Indonesia.

ASEAN region is collectively the fifth largest economy in the world based on a combined GDP of USD 3 trillion and a population of more than 650 million. ASEAN's role as a manufacturing hub is growing in prominence and coupled with abundant natural resources and tourism potential, ASEAN has been emerging as a favorable investment destination. The Master Plan on ASEAN Connectivity 2025 (MPAC) will potentially drive economic growth in the region. MPAC 2025 will bridge member countries' individual strengths to make the region collectively stronger particularly in five key areas, namely Sustainable Infrastructure, Digital Innovation, Seamless Logistics, Regulatory Excellence, and People Mobility".

"We are pleased to partner with Principal Indonesia in offering the Principal Islamic ASEAN Equity Fund, a USD-denominated offshore sharia equity fund that enables our customers to invest and benefit from the growth prospects in the ASEAN region. With the addition of the Principal Islamic ASEAN Equity Fund, we are able to provide a more comprehensive shelve of mutual funds offerings for our customers, which is in line with our commitment to help them achieve their financial goals. Standard Chartered Indonesia also always strive to provide ease of convenience for our customer to access our investments products, be it through our various digital platforms or face-to-face ," explained Meru Arumdalu , Head of Wealth Management, Standard Chartered Indonesia.

Principal is one of the leading provider of Syariah-compliant investments, serving investors in Malaysia, Indonesia, the Middle East and Europe with innovations solutions that help them reach their financial goals.

"Principal Indonesia seeks to provide products that matter to Indonesians and add value to their portfolios. By offering this new fund and distributing it through trusted financial leaders like Standard Chartered Indonesia , we are committed to connecting customers to financial tools to better meet their goals," said Naresh Krishnan.

To find out more about Principal Indonesia, visit www.principal.co.id. For more information about Standard Chartered Indonesia, visit www.sc.com/id/
About Principal Financial Group®
Principal Financial Group® (Nasdaq: PFG) is a global financial company with 19,000 employees [1] passionate about improving the wealth and well-being of people and businesses. In business for more than 140 years, we're helping more than 62 million customers [1] plan, protect, invest, and retire, while working to support the communities where we do business, and build a diverse, inclusive workforce. Principal® is proud to be recognized as one of the 2023 World's Most Ethical Companies® by Ethisphere [2], a member of the Bloomberg Gender Equality Index, and a "Best Places to Work in Money Management [3]." Learn more about Principal and our commitment to building a better future at principal.com.
1 As of March 31, 2023 
2 Ethisphere, 2023  
3 Pensions & Investments, 2022 

About Principal Indonesia (PT Principal Asset Management)
Principal Indonesia or PT Principal Asset Management (formerly known as PT CIMB-Principal Asset Management) is a joint venture between Principal Financial Group®, a member of the FORTUNE 500® and a Nasdaq-listed global financial services and CIMB Group Holdings Berhad, one of Southeast Asia's leading universal banking groups.
Acquiring PT Niaga Asset Management on 12 December 2007, Principal Asset Management Berhad is headquartered in Malaysia and has a footprint across Indonesia, Thailand, and Singapore. The company serves over 34.000 investors in Indonesia and has IDR 4 trillion in Asset Under Management as of 30 December 2022. We offer a wide variety of solutions to help people and companies in building, protecting, and advancing their financial well-being with our discretionary mandates and asset management expertise.
With innovative ideas and real-life solutions, the company helps achieving financial progress towards a more secure financial future possible for clients of all income and portfolio sizes.
PT Principal Asset Management has obtained a business license from the Financial Services Authority (OJK) as an Investment Manager based on the Decree of the Chairman of BAPEPAM Number: KEP-05 / PM / MI / 1997 dated May 7, 1997. For further information, please visit www.principal.co.id
About Standard Chartered
We are a leading international banking group, with a presence in 59 of the world's most dynamic markets and serving clients in a further 64. We are the only international bank with a full presence in all 10 ASEAN markets. Our purpose is to drive commerce and prosperity through our unique diversity, and our heritage and values are expressed in our brand promise, here for good.
Standard Chartered PLC is listed on the London and Hong Kong Stock Exchanges.
For more stories and expert opinions please visit Insights at sc.com. Follow Standard Chartered on Twitter, LinkedIn and Facebook.
Standard Chartered Bank Indonesia is licensed and supervised by the Financial Services Authority (OJK).
Media center image alignment
CENTER