Principal® Foundation collaborates with Bulir Padi Foundation to organize volunteering day activity for marginalized youths and community of Rusunawa Marunda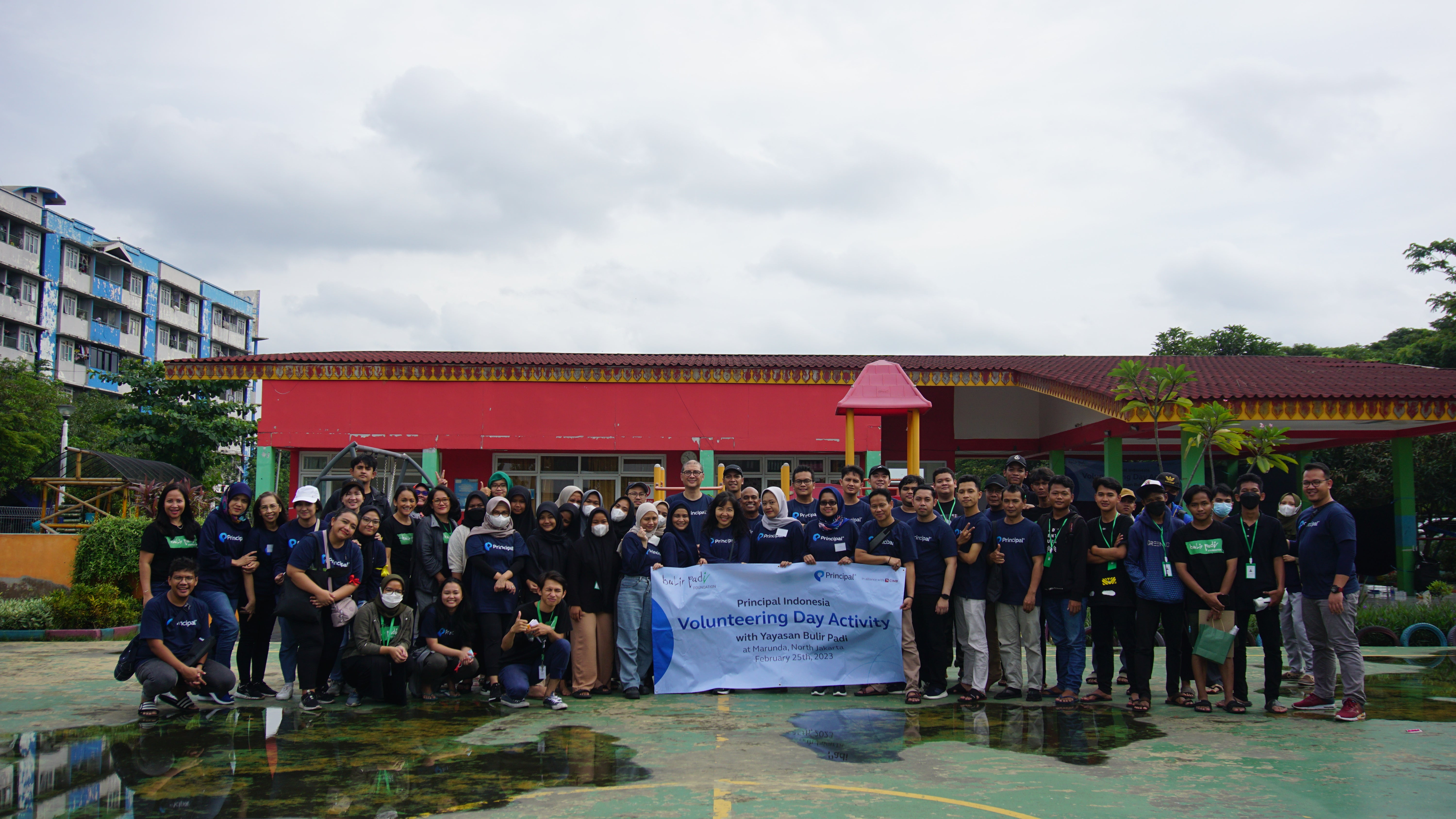 (Jakarta, Indonesia) – On Saturday, 25 February 2023, Principal® Foundation along with employees of Principal Indonesia will team with the Bulir Padi Foundation (Yayasan Bulir Padi) to host a volunteering day activity for marginalized youths and community of Rusunawa Marunda in Cilincing, North Jakarta. Yayasan Bulir Padi is a non-profit organization focused on empowering marginalized children in Jakarta with education and skills necessary to help them reach their full potential. During the volunteering day event, Principal® Indonesia employees will dedicate their time teaching and mentoring youth. The Principal® Foundation will amplify their impact by matching the employees' volunteer hours with monetary donations benefiting Yayasan Bulir Padi.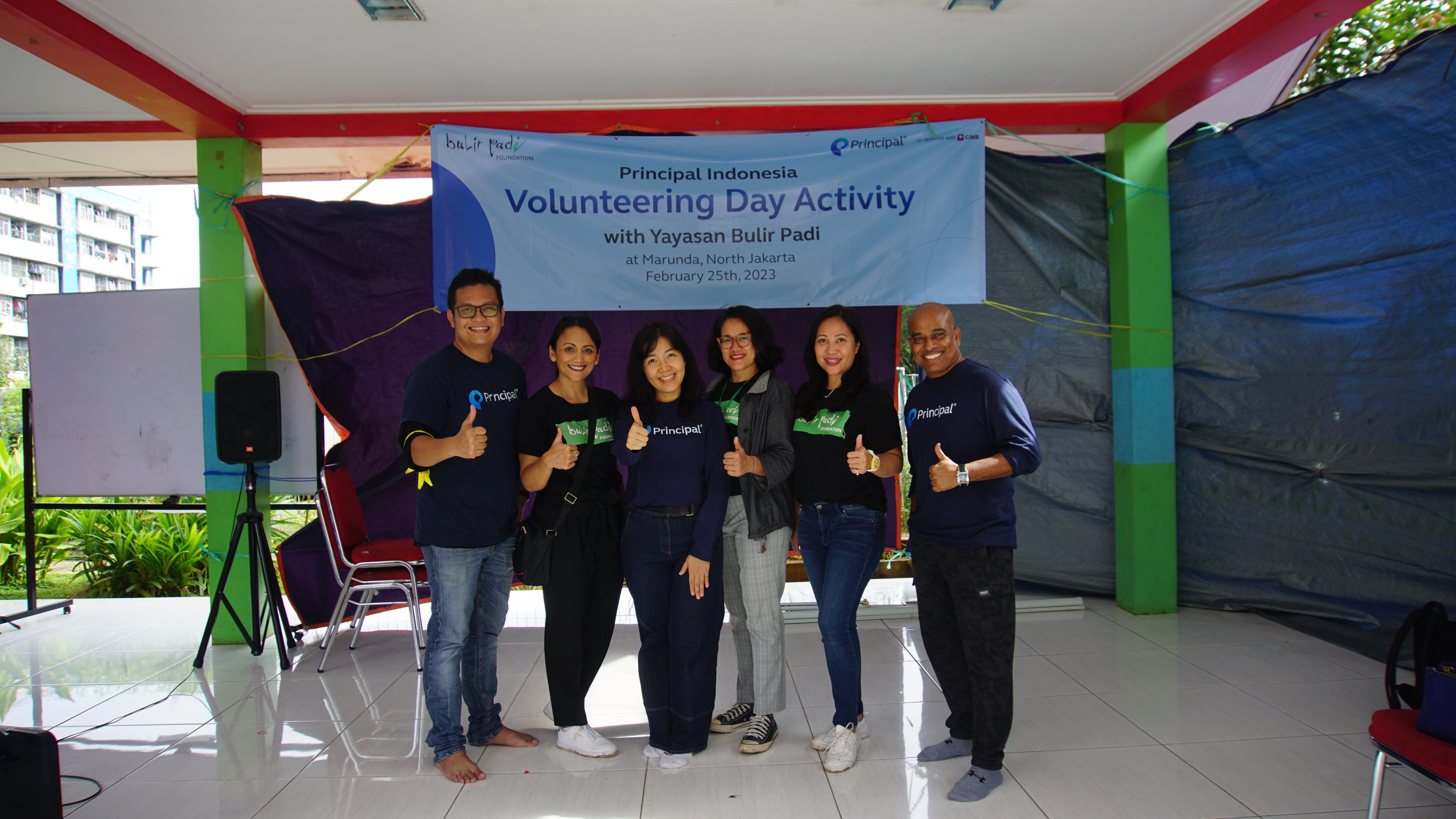 "At Principal®, we have a responsibility to support and serve the global communities where we live and work through volunteering, charitable contributions, and promoting financial inclusion that helps to advance financial security and health," said Jo Christine Miles, director of Principal Community Relations and Principal Foundation. "Our work with the Bulir Padi Foundation is one way we fulfil our responsibility."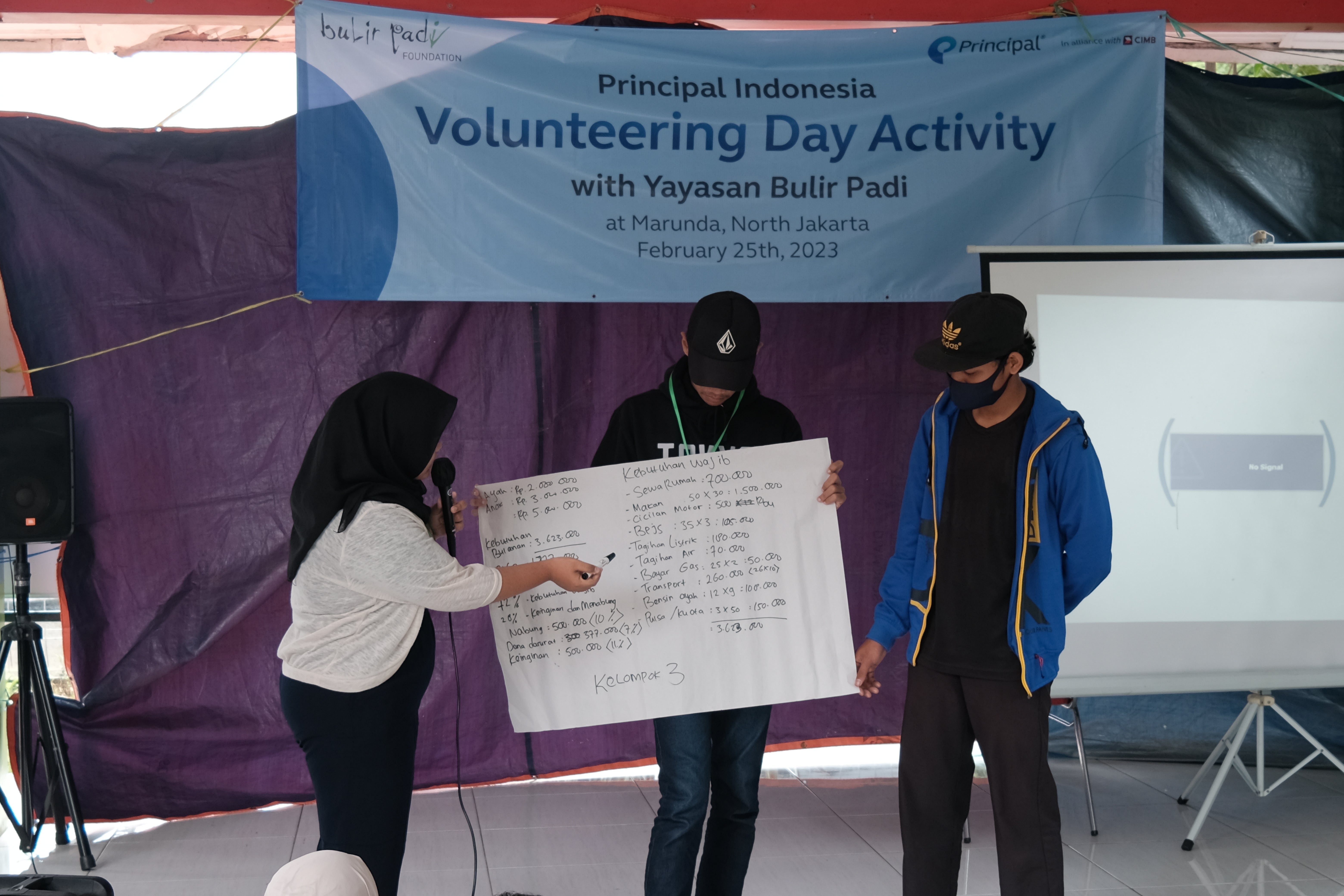 ​
"We hope this collaboration between Yayasan Bulir Padi, Principal Indonesia and Principal Foundation benefits and supports the community of Rusunawa Marunda by providing the youth with more knowledge in financial savings and job readiness so they may reach their full potential and increase their confidence," said Anna, director of Principal Indonesia.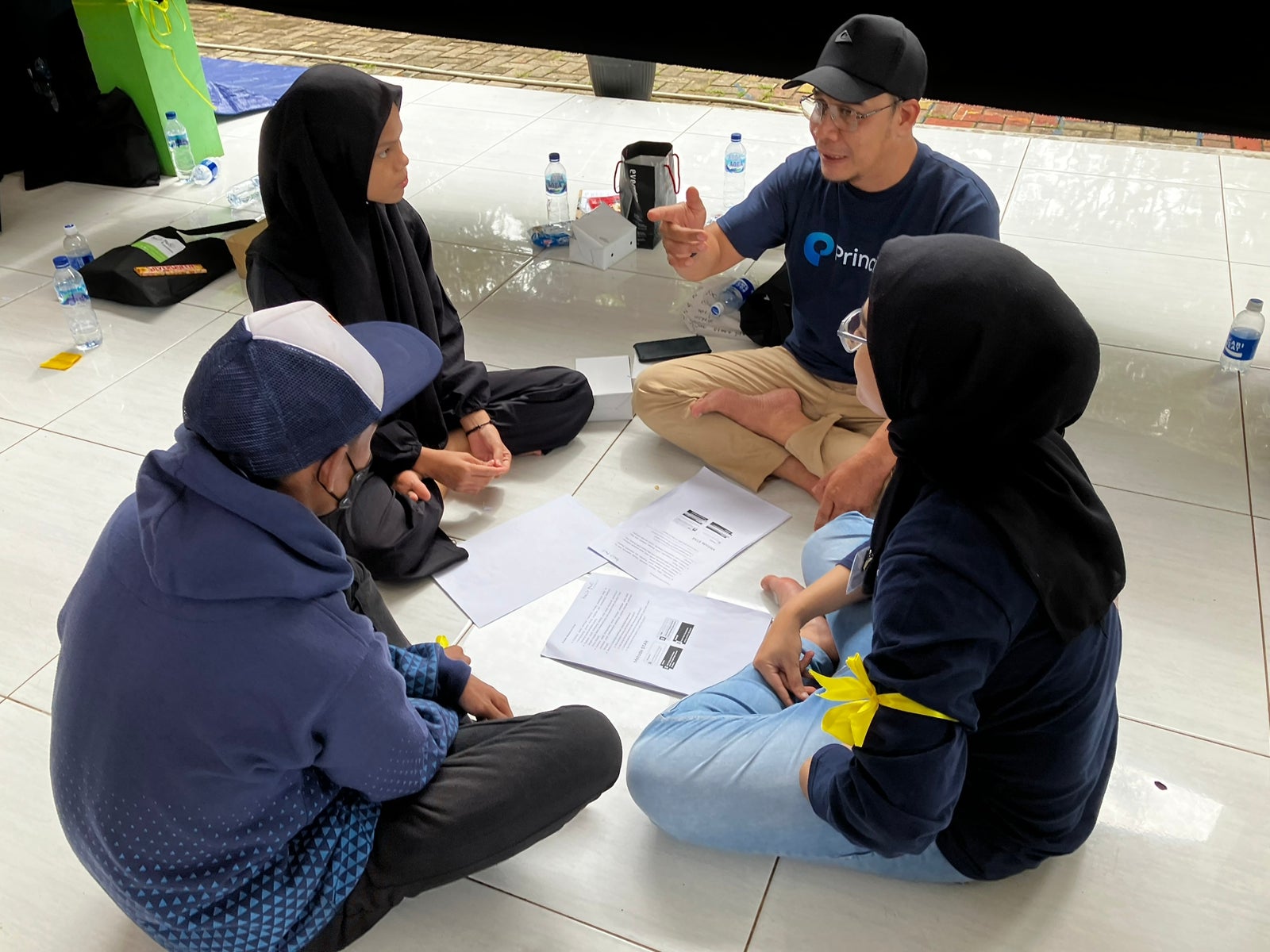 Principal Indonesia employees will give back to the youth of Rusunawa Marunda through informative sharing sessions and workshops about financial savings and job readiness. In addition, volunteers will conduct community cleaning in the Rusunawa Marunda area, including picking up trash and planting greenery.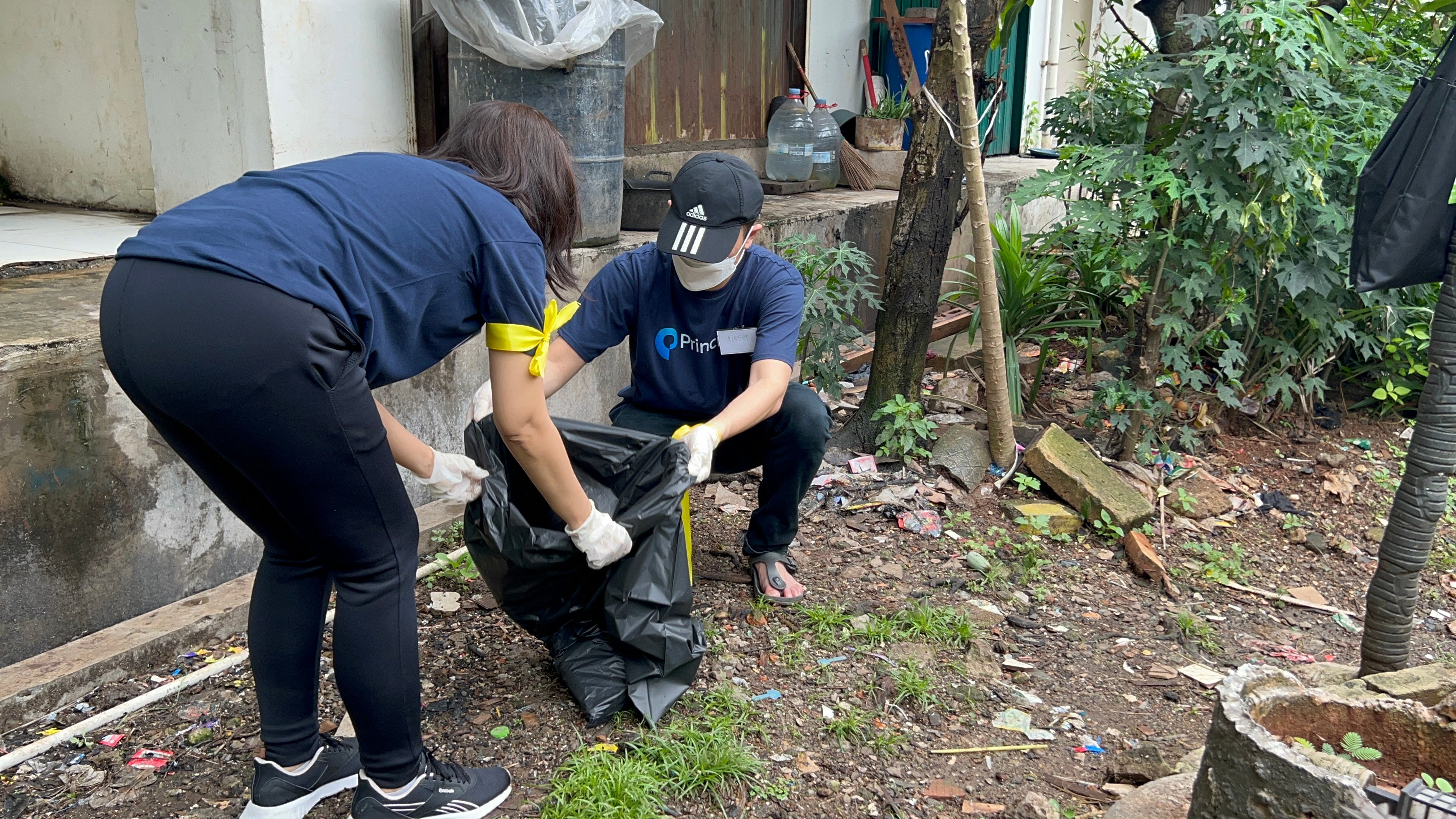 ​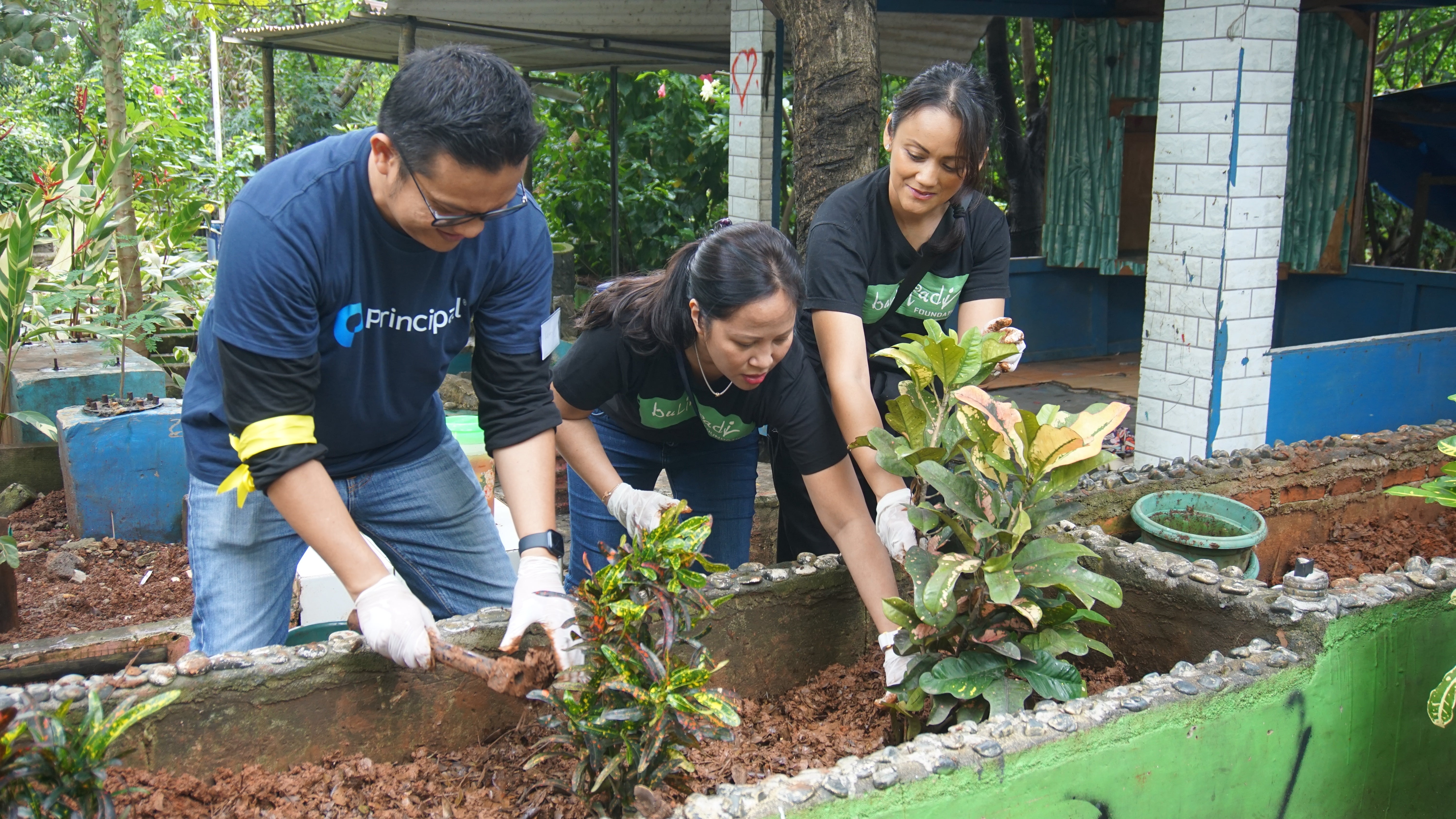 ​
"Yayasan Bulir Padi is proud to team with Principal Indonesia to support our job readiness program through its employee donation and volunteer initiative," said Tia Sutresna, founder and director of programs & strategy, Yayasan Bulir Padi.
To learn more about Yayasan Bulir Padi, visit www.bulirpadi.com.
About Principal Financial Group®
Principal Financial Group® (Nasdaq: PFG) is a global financial company with 19,000 employees (1) passionate about improving the wealth and well-being of people and businesses. In business for more than 140 years, we're helping more than 62 million customers1 plan, protect, invest, and retire, while working to support the communities where we do business, and build a diverse, inclusive workforce. Principal® is proud to be recognized as one of America's 100 Most Sustainable Companies (2), a member of the Bloomberg Gender Equality Index, and a "Best Places to Work in Money Management (3)." Learn more about Principal and our commitment to building a better future at principal.com.
1 As of December 31, 2022
2 Barron's, 2022
3 Pensions & Investments, 2022
About Principal Indonesia (PT Principal Asset Management)
Principal Indonesia or PT Principal Asset Management (formerly known as PT CIMB-Principal Asset Management), is a joint venture between Principal Financial Group, a member of the FORTUNE 500® and a Nasdaq-listed global financial services and CIMB Group Holdings Berhad, one of Southeast Asia's leading universal banking groups.

Acquiring PT Niaga Asset Management on 12 December 2007, Principal Asset Management Berhad is headquartered in Malaysia and has a footprint across Indonesia, Thailand, and Singapore. The company serves over 25,000 investors in Indonesia and has IDR 4 trillion in Asset Under Management as of 30 December 2022. We offer a wide variety of solutions to help people and companies in building, protecting and advancing their financial well-being with our discretionary mandates and asset management expertise.

With innovative ideas and real-life solutions, the company helps achieve financial progress towards a more secure financial future possible for clients of all income and portfolio sizes.

PT Principal Asset Management has obtained a business license from the Capital Market authority as an Investment Manager based on the Decree of the Chairman of BAPEPAM Number: KEP-05 / PM / MI / 1997 dated May 7, 1997. For further information, please visit www.principal.co.id

About Principal Foundation
Principal Financial Group Foundation, Inc. ("Principal Foundation") is a duly recognized 501(c)(3) entity focused on providing philanthropic support to programs that build financial security in the communities where Principal Financial Group, Inc. ("Principal") operates. While Principal Foundation receives funding from Principal, Principal Foundation is a distinct, independent, charitable entity.
Principal Foundation does not practice any form of investment advisory services and is not authorized to do so.
2748803-022023

About Yayasan Bulir Padi
Yayasan Bulir Padi (Bulir Padi Foundation) is a non-profit organization that helps children from marginalized communities by providing education and job-ready skills to empower them to become a productive part of society. The Foundation's work pillars focus on academic excellence, skills education, job opportunities, digital inclusivity, and entrepreneurship. Yayasan Bulir Padi supports the United Nations Sustainable Development Goals.

Yayasan Bulir Padi's programs have reached more than 1,363 youths in Jakarta's marginalized communities in Palmerah, Bidaracina and Marunda. Our student graduation rate is 100% and as many as 61% of our youth are absorbed by the job industry upon completing high school. We built three digital learning centres at each of our community locations equipped with Wi-Fi connectivity, laptops and smartphones. Certified Information Computer Technology (ICT) trainings strengthen our youths' job readiness skills and competitive advantage. For more information visit www.bulirpadicom or email info@bulirpadi.com.