Principal and UNDP Signed Collaboration on the Utilization of Sharia Social Finance and Philanthropy, 6 August 2020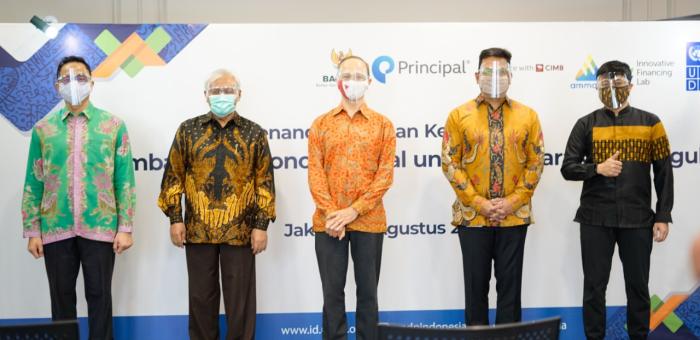 JAKARTA, 6 August 2020 – The United Nations Development Programme (UNDP) together with the National Zakat Agency (BAZNAS), PT Principal Asset Management (Principal), and PT Ammana Fintek Syariah (Ammana) launched today a new partnership to support COVID-19 recovery and economic development of vulnerable communities in Indonesia.
The partnership is part of UNDP's socio-economic response to COVID-19 in Indonesia working with government, the private sector, development partners, and other stakeholders.
It builds on the success of a UNDP-BAZNAS project that installed five micro-hydro power plants to provide much-needed electricity to over 4,000 poor residents in remote areas of Jambi. The partnership signed today at Principal Institute will allow for replication of this synergy and will provide disaster recovery program to about 10,000 people in Sambik Elen village in Lombok and Tuva village in Central Sulawesi. As such, it will also contribute to the Sustainable Development Goals, specifically those related to poverty, inequality, and energy.
The newly signed MoU will help harness Islamic philanthropy funds and Islamic fintech.
With access to energy, as a result, residents in these villages will be able to process local commodities such as coffee, cashew, honey and rubber into finished products for sale. The project will also enable villagers to acquire new skills to improve crop production and maintain plantations for resilient and sustainable businesses focused on local commodities.
"The partnership program between BAZNAS and UNDP to utilize the potential of zakat in achieving SDGs in Indonesia was previously inaugurated through the 2017 MoU signing. Additional collaboration from PT Principal Asset Management and PT Ammana Fintek Syariah will certainly strengthen the program, and more communities affected by the pandemic can be helped," said Chairman of BAZNAS, Bambang Sudibyo.
"The COVID-19 pandemic is having a devastating socio-economic impat. It compounds the recovery and development challenges in communities that are vulnerable or suffered from recent natural disasters. UNDP is committed to help to build life better for the affected people, and this what we will be doing under this exciting new partnership," said Christophe Bahuet, UNDP Resident Representative.
Harnessing the local economy will provide an opportunity for those affected by the pandemic to build back better.
"Principal as the first asset management company that collaborates with UNDP as a partner, believes that this cooperation will contribute in achieving SDGs and make a significant impact to society," says Agung Budiono, CEO Principal. "Principal and UNDP share the same mission, not only to create positive socio-economic and environmental impact, but also to inspire society, investors, businesses, and other parties in Indonesia to support the achievement of SDGs by involving more in philanthropic efforts."
"Since SDGs are in line with the values of Islamic Economy and post-pandemic has urgency in ethical and digital financing for recovery of the economy, therefore ammana as sharia P2P fintech joint-response with the UNDP and BAZNAS to take that roles," says Lutfi Adhiansyah, CEO Ammana.
This partnerships is forged under the UNDP Innovative Finance Lab to with the objective to leverage social finance, such as zakat and other philanthropy fund and targeted micro grants via fintech companies for the Sustainable Development Goals.
Media center image alignment
CENTER