Allianz Indonesia and Principal Asset Management Hold Empowered 3.0 Competition to Support Entrepreneurs with Disabilities as a Form of in the Middle of Pandemic, 3 June 2020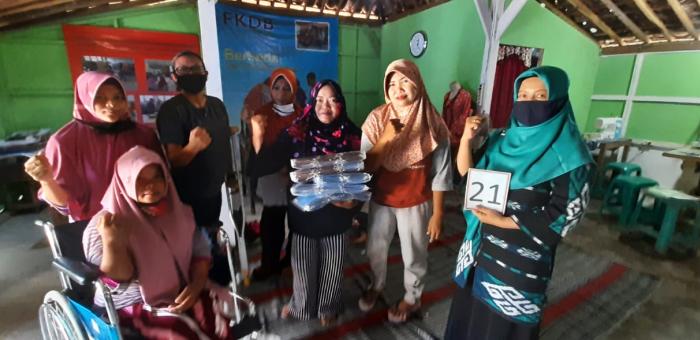 Jakarta, 3 June 2020 - People with disabilities are still hampered by difficulties in gaining access to finance, employment, and access to entrepreneurial development. According to the National Socio-Economic Survey (Susenas) in 2018, Indonesian disabled people from the working age group (19-59 years) recorded for more than 150 million people. In the same year, the Indonesian Ministry of Manpower noted that employment for the disabled in the formal sector was still very low, from a total of 230 thousand workers in 440 companies, the number of workers with disabilities had only reached 1.2 percent.
The slowing down of the economy in the midst of COVID-19, which is now sweeping Indonesia, is certainly also a challenge for disabled communities, so that Allianz Indonesia through the Yayasan Allianz Peduli (YAP), cooperating with investment manager Principal Asset Management (Principal), as part of the community feels the need to participate in the economic recovery amid this pandemic. One form of YAP and Principal's contribution is to hold an Empowered (Economic Empowerment for Entrepreneurs with Disability) competition. Empowered is a business assistance and development program to empower people with disabilities so that they can be independent, productive, and can have a decent income, in accordance with their skills and abilities.
"The business world now provides many opportunities for disabled friends to create and show their abilities as reliable workers. Therefore, Allianz Indonesia once again held the Empowered program as a form of our commitment to help improve the welfare of friends with disabilities, in accordance with one of our CSR pillars, the pillar of Economic Empowerment. Through this program, we establish the independence of the businesses of our disabled communities and provide full support so that their businesses can grow even better," said Ni Made Daryanti, Chairperson of Yayasan Allianz Peduli.
In the Empowered 2020 program, YAP collaborates with Principal, as a company that shares its concerns for people with disabilities through mentoring and business development programs. In order to be more focused, this year Empowered will be accessible to the communities of people with disabilities in Central Java and Yogyakarta.
"Our support for the Empowered program aims to open access for many disabled friends to improve their skills in managing finances, as well as form the independence of their businesses, so they can continue to grow. This is in line with the Principal's commitment in making sustainable positive contributions to the socio-economic environment around us, which is carried out through various humanitarian projects. We hope that this program can inspire more parties to support community empowerment, one of which is the disabled," said Agung Budiono, Principal Chief Executive Officer.
The registration that was opened in March 2020 attracted many disabled entrepreneurs to participate, and 10 best proposals were selected that were entitled to get business development assistance by Allianz along with Principal. They come with various types of businesses, ranging from furniture businesses, buying and selling of agricultural produce and animal feed, batik, and honey trade.
"Disable does not mean less able. I think there is a stigma of most people that people with disabilities do not have the ability to work, but I believe that people with disabilities have the ability to work independently, can even generate employment, and deserve equal opportunities. I am moved to be part of this program so that it can help people with disabilities get better opportunities, and also hopes to help them inspire other disabled people to be more confident that they are able to work and work," said Frida Ferdani Putri, one of the employees of Allianz Indonesia as the mentor in this Empowered mentoring program.
The top 10 mentoring will take place in July - September 2020 using online platform, where mentors will provide business plan guides to 10 participants and regularly discuss their business plans with mentors. After providing assistance for 3 months, the 10 participants will be assessed to the extent to which they have developed in accordance with predetermined indicators such as increased revenue, bookkeeping, increasing the number of employees, and expanding business coverage. The three best participants will receive mentoring funds of Rp50,000,000 each for business development capital, provided by Principal and the Yayasan Allianz Peduli and the community who have donated through the # 30MenitSehari campaign on Allianz Indonesia's social media.
"Providing financial and entrepreneurial training in this program aims to enable communities with disabilities to get information on financial products, and how to manage finance and business in a sustainable manner for their future. We hope that this program can help disabled communities to continue to develop their abilities so that they can compete in society, especially in the midst of the current pandemic," added Agung Budiono, Principal Chief Executive Officer.
Since its launch in 2016, the Empowered program series initiated by Allianz Indonesia through the Yayasan Allianz Peduli has succeeded in channeling benefits to more than 2,081 people with disabilities including their families, as well as four local and national government agencies, including the Klaten Manpower & Social Transmigration Office, The Department of Industry, Trade, Cooperatives, and UKM Gunung Kidul, the Yogyakarta Financial Services Authority, the Solo Financial Services Authority, and the Klaten Social Service.
Media center image alignment
CENTER