Allianz Indonesia and Principal Asset Management Held EMPOWERED 3.0 Final Event with the Funding for the Three Best Business Plans, 11 Nov 2020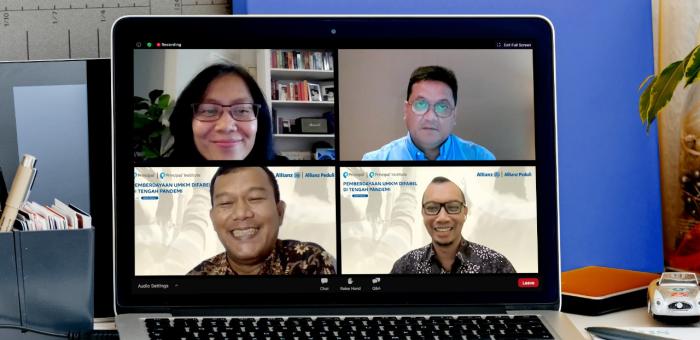 11 November 2020 – The EMPOWERED 3.0 (Economic Empowerment for Entrepreneurs with Disability) competition, collaboration between Allianz Indonesia through Yayasan Allianz Peduli, together with Principal Asset Management, is now entering its final stage. The ten selected MSME players have completed their mentoring and training period which began in July 2020. The progress of each participant is well monitored, and is used as a basis for assessment to determine the three best business plans for this competition.
The closing ceremony took place in the Webinar on Empowering MSMEs with Disabilities in the Middle of a Pandemic on November 11, 2020.
"We appreciate the initiative by Allianz Indonesia and Principal Asset Management to encourage people with disabilities, and hopefully this initiative can be followed by other big businesses in their various partnership programs. What all participants have done also brings pride to us that MSMEs can make a big contribution to the welfare of the wider community. These will all add to our confidence and enthusiasm to continue to strive to encourage the growth of MSMEs, so that they can play a bigger role on a global scale, " said Victoria br. Simanungkalit, Deputy for Production and Marketing of the Ministry of Cooperatives and SMEs, Republic of Indonesia, in her remarks when opening the webinar.
The EMPOWERED 3.0 competition itself is a mentoring and business development program to empower people with disabilities to be independent, productive, and have decent income, according to their skills and abilities. Through this competition, MSMEs (Micro, Small and Medium Enterprises) players with disabilities, especially those domiciled in the Special Region of Yogyakarta and Central Java, can receive mentoring and business development from a competent mentor team from Allianz Indonesia and Principal Asset Management.
"The EMPOWERED 3.0 competition is different from the previous ones because it is conducted online. Even so, the mentoring, training, and assessment processes went well. Participants learned to make correct financial records, marketing and branding strategies, product waste management, and so on. We are enthusiastic to see the significant progress of the ten participants, so it is quite difficult for us to choose the three best businesses. The hope is that after this program, the participants will be more empowered for themselves and their environment, and will be able to compete in an increasingly competitive market," said Ni Made Daryanti, Chairman of Yayasan Allianz Peduli.
The judging process is carried out by a team from Yayasan Allianz Peduli and Principal Asset Management with assessment indicators including: increased income, being able to do business bookkeeping well, increasing the number of employees, and expanding the scope of the business. The three business plans with the highest scores were owned by M. Wazir from Semarang Regency, M. Abdul Ghofur from Blora Regency, and Wuri Akhdiyatni from Bantul Regency. These business actors will receive funds for their business development, amounting to Rp.50,000,000 each with tax deductions, offerings from Yayasan Allianz Peduli and Principal Asset Management, as well as people who have donated through the # 30MenitSehari campaign on Allianz Indonesia's social media.
"We are committed to continuing to contribute to the empowering the disabled community, including MSMEs who are certainly affected by the current pandemic. This empowerment is carried out not only by providing venture capital, but also by providing assistance to ensure the sustainability of their business. We would like to invite the public and other businesses to contribute positively to the social and economic environment around us, through various philanthropic projects," said Agung Budiono, Chief Executive Officer, Principal Asset Management.
As a practitioner in the field of empowering MSMEs, Jimmy Febriyadi added, "When became a mentor in the EMPOWERED program in the previous year, I learned a lot about how to assist a comprehensive and inclusive program. The EMPOWERED program is one of the answers to improve the welfare of marginalized groups, in this case the disability community. Seeing the progress of the participants, it proves that disability does not mean hopelessness. In fact, the potential of these participants can be more focused and optimal by increasing their capacity, managing their businesses, and implementing marketing and partnership strategies," said Jimmy Febriyadi, Founder of INCREASE (Inclusive Creative Social Enterprise), who was one of the speakers at the webinar.
Allianz Indonesia and Principal Asset Management hope that this competition will become inspiration and motivation for both disabled entrepreneurs and the general public. In fact, being a person with a disability is not an obstacle for business people to continue working productively and sustainably, it can even create jobs for others. The community is also expected to remove the negative stigma regarding persons with disabilities, and to support each other by contributing to others through various humanitarian projects.
Media center image alignment
CENTER